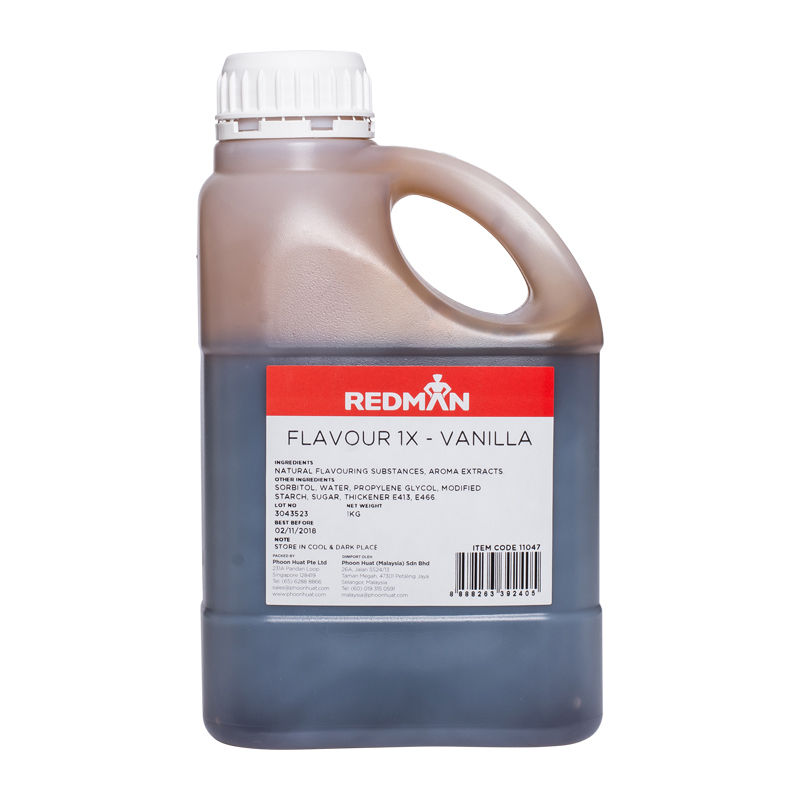 Description
Made in Singapore, our Redman Vanilla Essence 1x contains a sweet and light vanilla fragrance. It is half as concentrated as regular vanilla essence.
---
Details
Our Redman Vanilla Essence 1x is a chemically produced vanilla flavouring. It is very strong in flavour, and adding a few drops is sufficient to achieve a strong taste of vanilla. Store in a dark and cool environment.
How to Use
Add this into your recipe as instructed for an added fragrance and taste of vanilla.
Suggested Recipes
Recipe suggestions include Victoria Spongecake with Homemade Strawberry Jam and Profiteroles with Chocolate Sauce.
Link for Recipes
https://www.bbc.co.uk/food/recipes/classic_victoria_sponge_54621; https://www.bbc.co.uk/food/recipes/profiteroleswithchoc_88986
Alternatives
Alternatives include vanilla extract and vanilla essence.
Ingredients
Sorbitol, water, propylene glycol. Permitted flavour. Modified starch caramel sugar syrup. Thickener (E413) stabiliser (E466)
Allergen
Instruction
Country of Origin: Singapore