1210 Christmas Stump Cake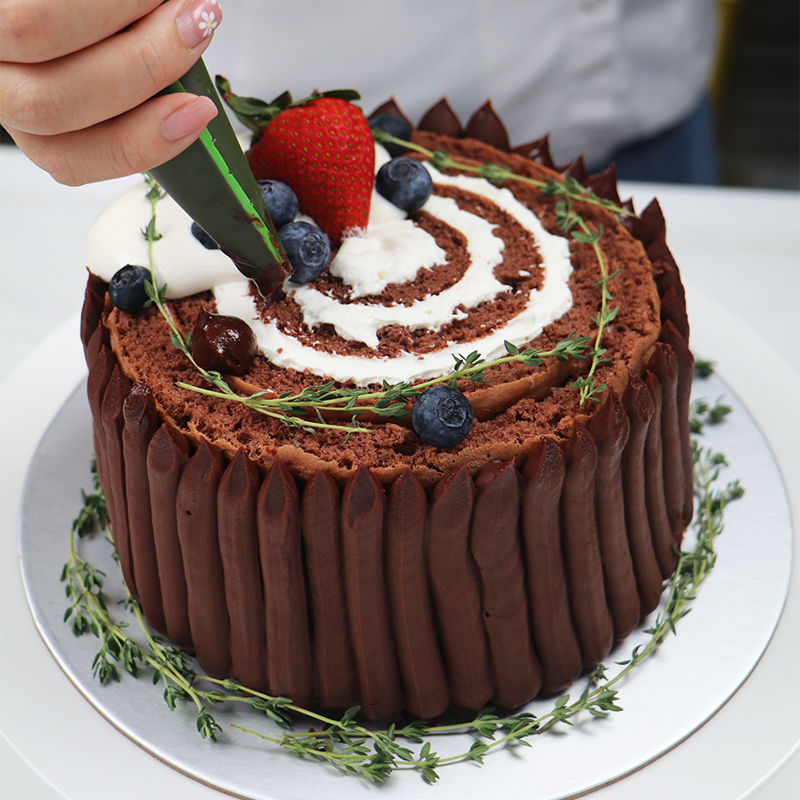 10/12/2021, 9:00 AM - 12:30 PM
Description
Online LIVE Hands-On: Christmas Chocolate Stump Cake
Moist Chocolate sponge layered with vanilla chantilly cream and frosted with a rich chocolate ganache. Learn how to decorate this Christmas Chocolate cake like a cute tree trunk!
At RedMan Baking Studio's, our Chefs are constantly coming up with new and creative ways to delight our Baking Studio customers. All recipes are developed in house and come from the many years of experience that our In House Chefs have under their belts. You'll often find that our recipes are unparalleled in their uniqueness and incorporate flavours and techniques from many different cultures. Each class is conducted with passion and our Chefs take the time to make sure everyone learns and brings home a delicious creation!
YOU'RE LEARNING
How to prepare and bake a roll cake sponge

How to spread the filling and roll the cake

How to frost and decorate the stump cake
DETAILS
Duration: 3.5 hours
Type: Online Live Hands-on
Level: Beginner
Language: This class is conducted in English only.
Internet:
Please ensure that you have a strong enough internet connection to ensure that class goes smoothly and finished on time for everyone. We will not be able to hold up class if your internet is not working.
Zoom:
Please ensure to get acquainted with the Zoom application before class as we will not be able to troubleshoot.
What to Expect?
For online hands-on, you will bake together with the Chef from the comfort of your own home and kitchen via Zoom.
You will need to follow and apply the instructions from the chef on the spot to make sure you achieve the best results of the recipe.
Feel free to ask for some tips and advice on the spot and learn from the Chef to level up your next baking experience.
The class is done online via Zoom, you will receive the class details through an email before 5pm, 3 days before your class.
A copy of the recipe, zoom link and complete class details will be included in the email.
If you did not receive the email we sent, we encourage you to check your spam or junk mail folder, otherwise please contact our customer service through the link https://www.redmanshop.com/contact-us.
Ingredients:
You are required to purchase the ingredients based on the recipe provided to you in advance.
Tools and Equipment:
Please ensure that you have the standard equipment mentioned below before joining the class, in case you are missing some of the items, you can use the suggested alternative equipment as an option.
You can head down to RedMan by Phoon Huat and Phoon Huat shops or visit RedManShop.com to make a purchase of the items that you need.
| | | | | |
| --- | --- | --- | --- | --- |
| SN | Standard Equipment & Tools Required | Quantity | Alternative Equipments & Tools | Quantity |
| 1 | Convection Oven | 1 | | |
| 2 | Stand Mixer with whisk attachment | 1 | Handheld Mixer with whisk attachment | 1 |
| 3 | Medium Size Whisk | 1 | | |
| 4 | Medium Size Spatula | 1 | | |
| 5 | Baking Tray | 1 | | |
| 6 | Weighing Scale | 1 | | |
| 7 | Large Kitchen Knife | 1 | | |
| 8 | Baking Paper 30cm x 30cm | 3 | | |
| 9 | Round Cake Tin 6 Inch | 1 | | |
| 10 | Medium Size Sieve | 1 | | |
Children Policy: Children aged 9 - 11 years old can enrol for class but must be accompanied by a paid adult.

Adolescent Policy: Adolescents 12 - 17 years old can enrol for class without an accompanied adult. If an adult wishes to accompany the adolescent, the adult must enrol as well.
TERMS AND CONDITIONS
Only paid and registered participants may join the class.
The class starts on time. If the class has already started for 20 mins or more, latecomers will not be admitted to the class. No refunds will be given.
General social etiquette and decorum during class are expected from each participant.
Are Bookings Refundable?
All confirmed bookings are non-refundable and non-transferable.
Transfers to another class are not available for online classes.
No refunds or transfers will be given for unattended classes.
Click on this link to contact customer service: https://www.redmanshop.com/contact-us
Class Cancellations
In the event that class is cancelled, an email will be sent to inform you of the cancellation. A full refund will be given.
---