220327 Wilton Course 1 Express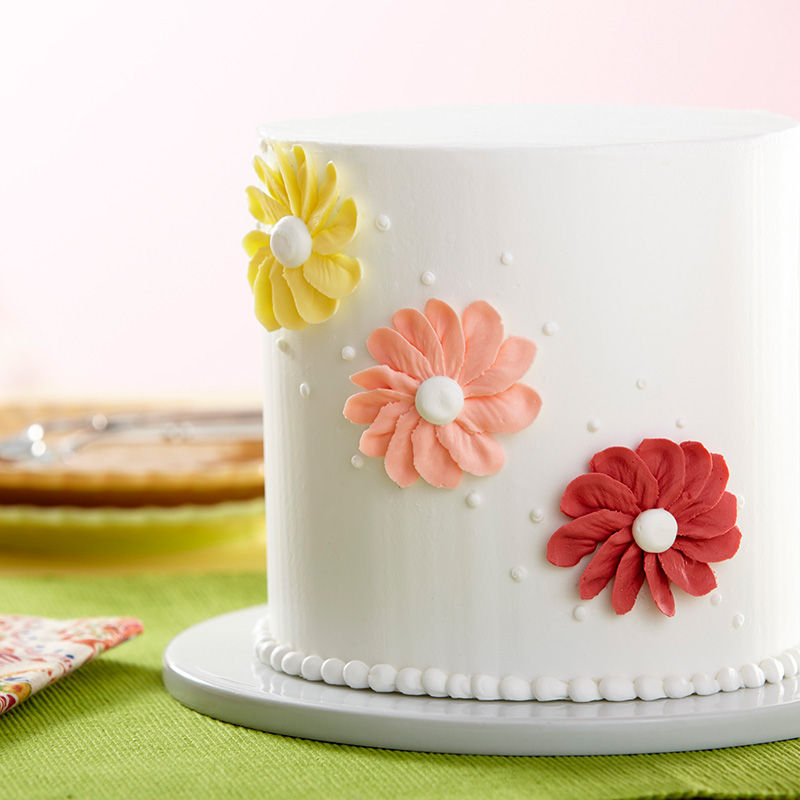 Type of Class :
Cake Decorating
27/03/2022, 10:00 AM - 4:45 PM
03/04/2022, 10:00 AM - 4:45 PM
Description
WILTON COURSE 1 EXPRESS - BUILDING BUTTERCREAM SKILLS
Building Buttercream Skills is a course for beginners who are keen to embark on cake and cupcake decorating projects. Your Wilton Method Certified Instructor (WMI) will help and guide you throughout the class. When you complete Course 1, you'll be proud of the new techniques you've learned and ready to showcase them on your next project.
YOU'RE LEARNING
How to ice and decorate a cake and cupcakes.

How to create 6 different buttercream flowers.

How to pipe lines, borders, letters and intricate designs on the cakes and cupcakes.

How to transfer images onto a cake.

How to make buttercream with the correct consistency.

How to fill and use a decorating bag.
DETAILS
Sessions: 27 March and 3rd April

Duration: 2 sessions of 6 hours each with 45 minutes lunch break (lunch not provided)

Type: Cake Decorating

Minimum age: 14 years old

Equipment, tools, ingredients, apron, and boxes will be provided.

Students are required to purchase some ingredients for homework

Official Wilton Course 1 Kit will be given to students.

Bring a pen for taking notes.

Students will receive a certificate of merit upon completion of the course.

An All-Star Certificate is awarded to a student who has completed Course 1,2,3, and one Wilton Project Class.
WILTON TERMS AND CONDITIONS
Minimum age: 14 years old
Wilton Certificate is awarded only for FULL Attendance and work assessed by the WMI Instructor to be up to minimum expectation
Only paid and registered participants may join the class.
The class starts on time. If the class has already started for 20 mins or more, latecomers will not be admitted to the class. No refunds will be given.
All remaining ingredients and tools are to remain in the baking studio.
Participants are required to wash up during and after class. General housekeeping is expected of each participant.
General social etiquette and decorum during class are expected from each participant.
During any baking class or event at the RedMan Baking Studio, our staff may take photographs or video images of activities for our advertising, publicity or sponsorship purposes.
If you do not wish to be included in such, please inform us in writing prior to the event, failing which you irrevocably waive any and all rights which you may have now or in the future including but without limitation any of your rights under the Copyright Act as may be amended from time to time or any similar laws of any jurisdiction, and acknowledge RedMan Baking Studio's right to use the photographs and recordings of you in all media and formats throughout the universe including not limited to RedMan Baking Studio's website, in advertising, publicity, or sponsorship.
Are Bookings Refundable?
All confirmed bookings are non-refundable. You may transfer to another class that is occurring within 30 days from the original class or send a replacement participant.
To send a replacement participant, please inform customer service at least 24 hours before class via email.
To transfer to another class, please contact customer service at least 24 hours before the start of class. e.g. class starts 9.30am on Tuesday, please email in by 9am on Monday. Availability of class to be transferred to is subject to the final decision of RedMan Baking Studio.
For weekend classes, please inform customer service of your intentions by Friday at 5pm.
No refunds will be given for unattended classes.
Click on this link to contact customer service: https://www.redmanshop.com/contact-us
Class Cancellations
Classes may be cancelled before or on class day if the instructor is unwell.
In the event that class is cancelled, an email will be sent to inform of the cancellation. A full refund will be given.
---